What would happen if you took Japanese food and added a dash of Peruvian influences?
Nobuyuki Matsuhisa decided to find out, and quickly became the owner/executive chef of 25 highly acclaimed Nobu restaurants around the globe, with Robert De Niro as a co-owner.
In Australia Nobu is

 

already in Melbourne and Brisbane and now Perth at the Burswood Entertainment Complex. While the wait list for weekends is horrendous, you can slip in during the week.
Inside diners have the option of several sitting areas – a drink in the bar; perched up at the sushi bar; in small tables on the way in; or in the main restaurant where there is lots of room between tables.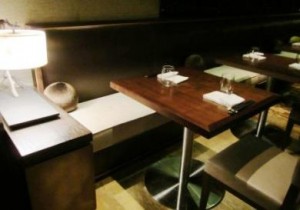 No matter where you sit the dim lighting and brown hues make you feel like you've entered an underwater man cave. Very 'man friendly'.
While the setting is beautiful, and the service excellent, it's the food that you'll still be talking about a week later.
Our party of three picked four dishes to share.
The sashimi salmon tacos were a nice starter.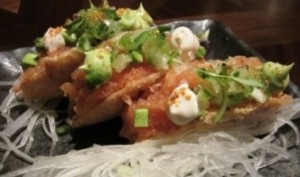 The prawn butter ponzu tempura was unlike any tempura I've ever eaten. Wood oven baked vegetables with Yuzu truffle dressing and Manjiumup truffle, was enough to make a meat lover turn. Then there was the signature dish, black cod with miso, it literally melted in your mouth. The only problem was how to share this amongst us, as we were only given a set of chopsticks each.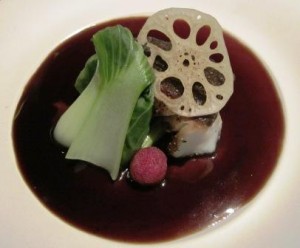 Blackened cod
©
The Ponder Room
It was a delight to be given decent sized meals, so much so that I'd only touched half my bowl of rice. Why fill up on rice when you have high quality, unusual offerings in front of you?
Although we could easily have left the meal there, the waitress had us intrigued with what sounded like soya sauce ice cream. Perhaps her thick accent meant we'd misheard.
Asking for clarification it seemed we'd heard correctly. Having already played rock, paper, scissors to decide who'd eat the strange red berry on the cod dish, we were primed to try anything.
Unable to decide which three desserts to try, we gave up and ordered all four that took our fancy.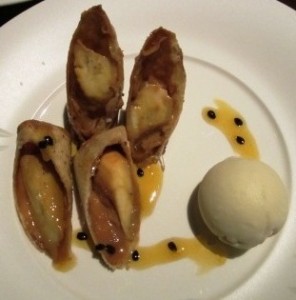 Banana Harumaki with Goma Ice Cream and Passionfruit Coulis; Satandagi filled with white chocolate and ginger, coffee ice cream and raspberry coulis (donuts);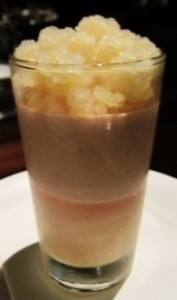 Ichigo Pannacota with Yuzu Granita and lychee;
Then the ice cream – three scoops, berry, cinnamon and soya sauce. If you go you have to give the ice cream a try.
Finally halting our chatter and looking up from our food we realised we were the last people left in the restaurant, and the chefs were cleaning the sushi bar.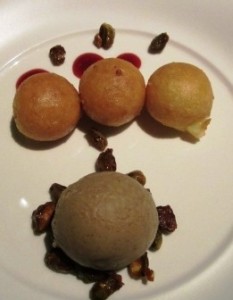 With some trepidation we asked for the bill.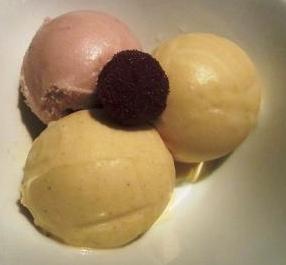 8 high quality dishes shared amongst three of us….we each paid $70, plus alcohol (that you don't need to know).
For more information here's the link to the Perth restaurant.

…..