When we three good friends finally found the time to check out Bistro Guillaume at Crown, we had high expectations …good quality, rich, bite size pieces of food, that would no doubt  have us raiding our pantries later in the evening. As I've often found in my consumer psychology work, expectations don't necessarily match reality … there were surprises aplenty in store.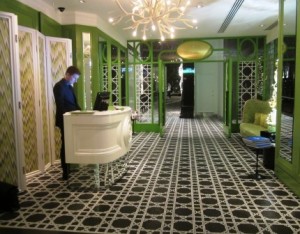 Bistro Guillaume © The Ponder Room

The surprises began with the light display at the entrance of the restaurant. Made out of broken plates it had us pondering whether we'd taken a left turn somewhere, and arrived at a Greek restaurant by mistake. Once inside however the black, white and lime green décor soon had us Ooo-la-la- ing and feeling like princesses, albeit a tad older than those typically found waltzing through the pages of Disney picture books.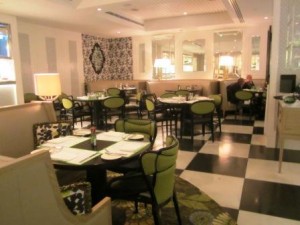 Bistro Guillaume © The Ponder Room
The french waitress directed us to a booth, took our wine order, and then left us alone, perhaps she could sense the impending chatter-fest. It was a delight not to be hovered over and continually asked if we were ready to order … another surprise.
The meal started with a Blue Swimmer Crab entre and Nicoisee Salad with tuna.
Blue Swimmer Crab Salad
Bistro Guillaume © The Ponder Room
The Swimmer Crab Salad looked too good to eat. The Nicoisee salad was passed around, receiving rave reviews about the crunchy beans and soft tuna. The main comment however was that it was large enough to be a meal on its own. Two of us decided to come back and order this for lunch one day. Surprise number two … the size of the meals.
Next the main … Fish and Chips was a popular choice at the table. This too didn't look anything like how we thought it would … a whole fish resting on four large chips. While not a pretty dish is certainly tasted good.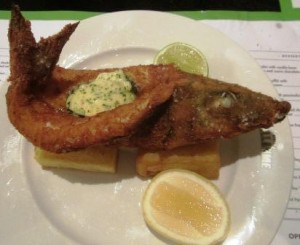 Fish and Chips
Bistro Guillaume © The Ponder Room
By the end of mains we were all sitting back from the table trying to ignore our bulging bellies. Enter the customary problem … dessert.
With only one permanent sweet tooth amongst us (me),  this is always a sticky situation. Thankfully by this stage of the evening our champagne enriched decision making ability, usually has us picking a dessert each, and sharing them all. It's become a bit of a tradition. On this occasion it was Profiteroles with Vanilla Bean ice cream, Lemon Tart and Sorbet.
Profiteroles Bistro Guillaume © The Ponder Room
Thankfully the profiteroles came in a plate of three, making it possible to divide up without tears. Arriving at the table we were surprised to see three pastry balls laden with ice-cream but devoid of chocolate. Hormonal distress wafted over the table. But then a tall, dark, French speaking waiter arrived, and with great theatrical flair poured rich hot chocolate sauce all over the plump pastries. Nigella who?
As I ponder on the rest of the evening I'd say …
The décor was hard to top as you can see by the photos, and the booth perfect. We could actually hear what each other was saying, without having to strain our ears, vocal chords or stomach muscles, which was just as well as they were otherwise occupied. The booths would be ideal for any intimate gathering be it business or romantic.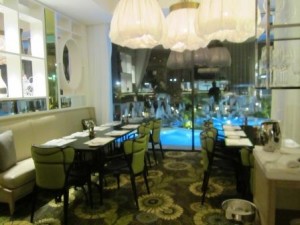 Bistro Guillaume © The Ponder Room
The food was high quality and delicious, though I probably wouldn't have the Fish and Chips if I was dining with someone I was trying to impress, it was difficult to eat and maintain a sense of decorum.
The service was a good mix of attentiveness and leaving us alone to catch-up. 
As usual we were the last people to leave the restaurant. Often there's a hint of 'time to go', be it chairs raised onto tables, or vaccum cleaners suddenly appearing. At no stage did we feel we'd overstayed our welcome.
Bistro Guillaume © The Ponder Room
But most of all it was the portion sizes that were the real surprise. No poncy small food offerings lost on enormous plates … no pantries would be raided that night.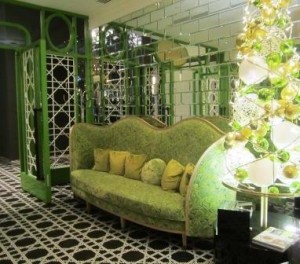 Bistro Guillaume © The Ponder Room
For more information and menus go to
http://bistroguillaumeperth.com.au/