Okay so maybe you don't get to the city or the Western Australian Museum that often, if so then you'll have missed out on stumbling into yet another hidden gem … Muse Café. We found it when we went in search of a coffee after the Wedding Dress exhibition . Ours was only a quick visit but it was enough to impress.

The setting in the transformed Old Gaol was so tranquil it was hard to believe we were in the city. The other area on the outer side of the building was more of a thoroughfare.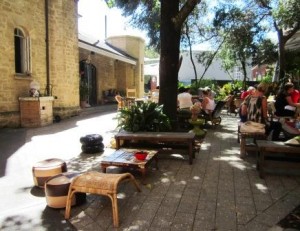 Muse Cafe © 2013 The Ponder Room
In terms of food we only had time for a quick sandwich, but the range of lunch options listed on the board was good – soups, tapa, quesadillas, paninis and cakes. I'd definitely go back to try some of these offerings.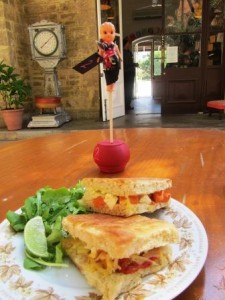 Muse Cafe food© 2013 The Ponder Room
While we were there the team was setting up for a big Pop Up Gin Garden function later that night. They were stringing up fairy lights and adding sound systems to the under growth.
It would be a great space for evening events under the stars.
Keep a look out for any functions held at the Western Australian Museum or Muse Cafe
Open 10am-4pm.
Heyder & Shears Exclusive Catering
http://museum.wa.gov.au/museums/perth/muse-cafe