I've driven past the Jus Burgers stores, winner of Best Burgers in Perth, many times and always wondered what their burgers were like. I finally made it into the Subiaco store on a gorgeous sunny winters day and received a couple of extra surprises along the way , including … a murder?


The menu included beef, lamb, chicken, fish, kangaroo, vegetarian, gluten free and vegan options. A kangaroo burger, you don't often see that. 
It took me a while to decide but I finally settled on the pumpkin burger. This came with the standard lettuce and tomato, then an oversized roasted panko crumbed pumpkin pattie, goats cheese and basil pesto. It was extremely filing, the panko crumbs added a wonderful texture and it was great value for money at $13.50. I can see why they've won 'Best Burger in Perth' several times.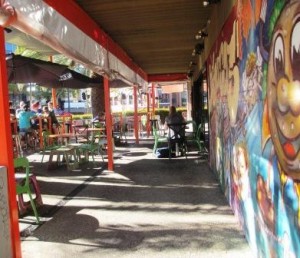 Jus Burger Subiaco © 2013 The Ponder Room
Hungry after a morning of meetings I opted for the 'Meal Deal' which included chips, home made relish and coleslaw for an extra $5.50, it was a great addition and thankfully not too big.
As I picked up the burger I was surprised to find the bun was quite well toasted. Not just a slight toasting but a crunchy, warm bun which was very welcome on a winters day. The inside was nice and warm too, a function of the burgers being cooked to order.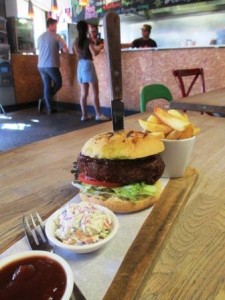 Jus Burger Subiaco © 2013 The Ponder Room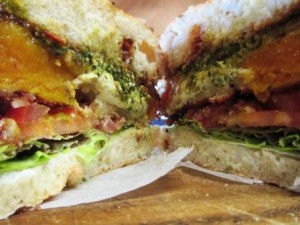 Jus Burger Subiaco © 2013 The Ponder Room
Another surprise was the cans of L&P (Lemon and Paeroa) on offer in the fridge, a delight for all the kiwis out there.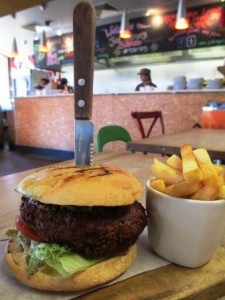 Jus Burger Subiaco © 2013 The Ponder Room
After finishing the meal I needed a while to digest so I sat reading the paper. It was a pleasure not to be harassed by staff about whether I wanted anything else, great service. While sitting there I pondered why do all burgers come stabbed these days?
I'm assuming it could be a reflection of the chefs feelings? Perhaps not at the beginning of shift, but I can certainly imagine the satisfaction it brings as they near the end of a long shift. What could be better than plunging a knife into the heart of burger after burger, while pondering the fate of a troublesome customer. Actually come to think about it, it would be more of a massacre than a single murder.

What would their position descriptions or job ads look like? Position Vacant: Must enjoy inflicting multiple stabbings.

Or maybe in the future we'll look back and find that burger 'stabbing' was a precursor to psychopathic tendencies? (only joking)

Perhaps I need to take a break from writing my fourth novel … a murder mystery, and I'm just at the point of the murder.
There are four Jus Burgers in Perth: Fremantle, Subiaco, Leederville and Northbridge
For more information  including the menus go to: http://jusburgers.com.au/