One of the good things about the Innaloo strip (yes there is a suburb in Perth called Innaloo) is that it's full of restaurants so you don't have to book. If you go to one restaurant and it's full you just move onto the next one. That's what we did the other night. With a hankering for an Indian meal we rocked up to find our first choice was full …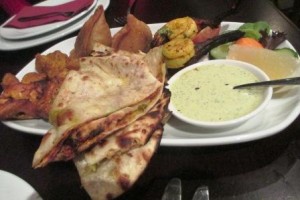 The Blue Ginger Club platter © 2013 The Ponder Room

No drama we simply moved on down the road and found the Blue Ginger Club. Only in operation for six months we weren't sure what to expect.
The service was good, very friendly and personal. It was no problem when we asked if we could change something on the Tandoori Mixed Platter for Two. We replaced one of the red meat options with two samosas off the Vegetarian Platter. This meant our platter had: two samosas, two Tandoor king prawns served on lamb cutlets, four fish pieces, two pieces of chicken Tikka, four pieces of Kheema Naan bread, and three sauces. All for $25.50. We added a bowl of rice. Everything on the platter was delicious and perfectly cooked.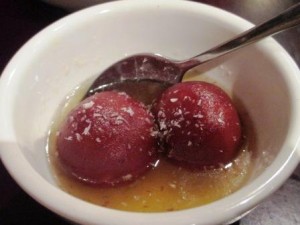 The Blue Ginger Club Dumplings © 2013 The Ponder Room

After time to rest we decided on dessert, one serve of pistachio ice cream (Pista Kulfi $7.50), and one serve of dumplings (Gulab Jamun $8.50). I was the first to try the dumplings and instantly stopped my guest mid-sentence telling her she had to try them. She did and the previous topic of conversation was instantly forgotten as we marvelled over the flavours. We both ate them slowly savouring each mouthful, the sauce not sickly sweet like some of these kinds of desserts. The ice cream was a perfect accompaniment, and would be equally good on its own.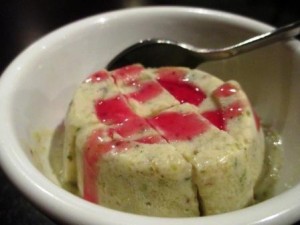 The Blue Ginger Club Ice Cream © 2013 The Ponder Room
 We were the last to leave the restaurant and at no time felt pressured to go so they could clean up. As we left I pondered …
So when is it good to be turned away from a restaurant? When an even better one is just down the road. If our original choice hadn't been full, we wouldn't have stumbled across this one.

One of the best Indian meals I've ever had.

Don't let the suburb name put you off.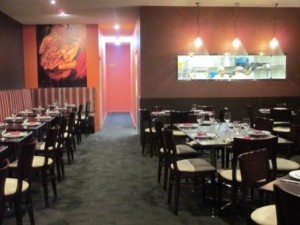 Inside the Blue Ginger Club © 2013 The Ponder Room

8/337 Scarborough Beach Rd Innaloo.