A few weeks ago I was fortunate to be invited to Gusti Restaurant at the Crowne Plaza Perth for lunch. On any normal day my lunch consists of a small tin of tuna on toast followed by a cut up apple. In case you're despairing about the lack of variety in my diet I should point out that the flavour of the tuna varies depending on my mood (sweet chilli or green curry perhaps) … actually that doesn't make it any better does it? Anyway given my usual fair you can imagine how excited I get about being asked out to lunch. You might also appreciate my bewilderment when confronted with an unexpected object in my chocolate mousse.

Seated near the windows we looked out towards the Swan River and watched a man as he danced about in front of a swish car that he'd parked on the grassed area. While performed the same routine over and over three other men filmed him. As you'd expect this resulted in a considerable amount of pondering. Our best guesses were a music clip or a car ad. The action quickly stopped however when a white Council van pulled up and asked them to move off the grassed area. So we went back to pondering the menu.
My companions settled on salmon and duck dishes, while I opted for fish and chips.
Salmon Crowne Plaza © 2013 The Ponder Room
The Atlantic Salmon, was perfectly cooked with just the right amount of softness, It was served with a medley of vegetables (green beans, warm cheery tomatoes, kipfler potatoes), plus an anchovy and an interesting kalamata olive pool.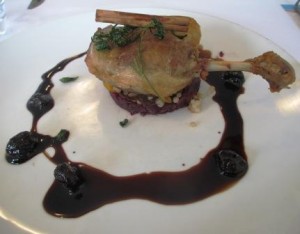 Duck Crowne Plaza © 2013 The Ponder Room
The Duck Leg was confit with a bed of pearl cous cous, pickled red cabbage and a silky sour cherry sauce. It was quickly devoured.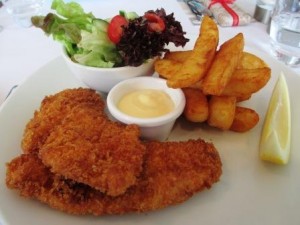 Fish Chips Crowne Plaza © 2013 The Ponder Room
My snapper was covered in panko crumbs which made for a crispy bite without the often oily finish. It came with a preserved lemon rouille and a small garden salad. The large cut truffle chips were declared amongst the best ever eaten by all around the table. Then came dessert …

The Yoghurt Panna Cotta (shown above) looked like a piece of art with its sweet amarena cherry and almond praline. It would have looked right at home in a stately stained glass window.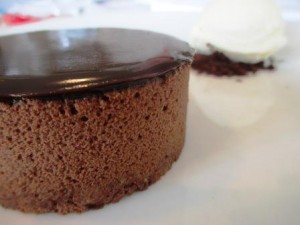 Chocolate Mousse Crowne Plaza © 2013 The Ponder Room
But it was the Chocolate Mousse that stopped us in our tracks. The menu read Cointreau ganache encased dark chocolate mouse with feuillente and vanilla ice cream. There I was meandering through the rich chocolaty goodness when suddenly I struck something hard. Biting into the round object I found a smooth, rich chocolate truffle with a burst of Cointreau that left your tongue tingling. It's definitely up there in the top 10 desserts.

Next time you're going out for a special treat dinner go to Gusti and make sure you order the mousse. If only you could live on a diet of truffle infused chips and chocolate mousse …now that's something to ponder.
54 Terrace Rd Perth