Last Saturday night I ventured into Mexico and I'm happy to report there were no needles or dodgy passport photos required. Thanks to the West Australian public's preponderance for trend jumping, Beaufort Street is currently festooned with Mexican restaurants. Within the space of a Stephen Hooker high jump, my friend and I passed three cactus inspired cantinas. This created something of a Mexican standoff between us as we attempted to satisfy both our culinary needs. Hopefully our ponderings may help you in the future, should you face the same dilemma …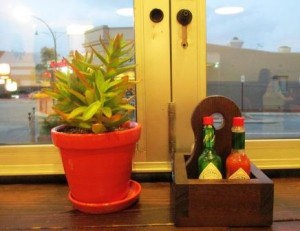 Salsa's window seat © The Ponder Room

Faced with a choice between Salsa's, Zambrero and Pancho's Mexican Villa Restaurant we pondered the following:
How hungry are you, are you after a plate of beans, tacos and burritos, potentiall swimming in cheese, or a delicate health inspired morsel?
Do you want to scoff and run or linger longer?
Do you have a hankering to see and be seen by the passing parade?
How's your balance, lower back and abdominal muscles? Do you have need of a chair or would you be happy perched on a milk crate, with your core engaged?
Do you want to talk to yoru dinner guest or paaarty?
Do you prefer tried and true brands or new hipsters?
How many people are in your dinner party?
What's your budget?
Salsa's and Zambrero are small 'hole in the wall' style outlets. They both offer the ability to sit in the window to see and be seen. Both fall into the 'hip, new(ish)' category. Zambrero has the very Melbourne milk crate seating out the front. Meanwhile Salsa's has a quick takeaway section on one side and a separate seating area on the other.
Zamreros © The Ponder Room
We opted for Salsa's because we snagged a park nearby and we had things to ponder and
discuss.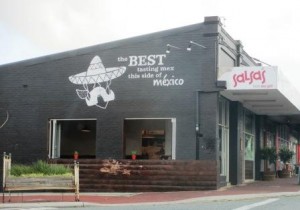 Salsa's © The Ponder Room

We ended up ordering bean burritos and chips. I must admit we were both a bit disappointed when the silver foil oblongs arrived at the table, but what it lacked in appearance it made up for in flavour.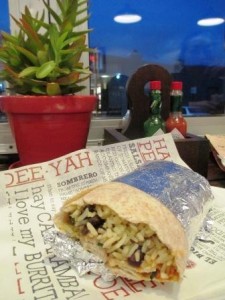 Salsa's burritto © The Ponder Room
So too the chips, after we got over lamenting the demise of the crinkle cut chip. It was great to see its return.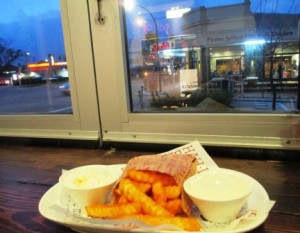 Salsa's chips © The Ponder Room
We sat in the window watching endless car headlights navigate around each other in the lightly falling rain. I think the waitress was a tad surprised to find us still there after two hours.
As we left and headed out onto the rain soaked streets I pondered … how much of a joy it was, not to be hassled to move or be asked to spend more money so we could stay. Come to think of it we managed to order a second round of chips all by ourselves.
Salsa's inside © The Ponder Room
Pancho's Mexican Villa Restaurant is more your older style large sit down Mexican restaurant, complete with a waitress who produces massive sparkly sombreros and takes group photos if you're celebrating. Definitely more appropriate for large groups and those wanting more of an experience than a quick meal. As we walked by the party was in full swing.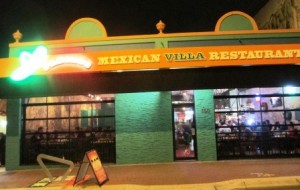 Pancho's
© The Ponder Room
Next time we'll try Panchos and no doubt relive some memories beyond crinkle cut chips.