Sometimes life just seems to get more and more complicated. It's at these times that we need to stop and take a moment to ponder whether it has to be so. Do we really need to answer all out emails immediately, attend all the functions we're invited to, or try to squeeze into the latest designer outfit? Sometimes life sends us a glimpse of the alternative …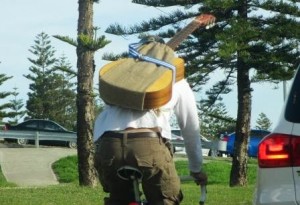 Cycling Musician © The Ponder Room
The other day while driving to my next meeting I got caught in traffic. As I sat mindlessly looking at the brake lights infront of me, this guy came past on my left.
I don't know why but for some reason the sight of him made me relax. I could imagine him heading off to join a group of friends lying around under a shady tree in Fremantle. An afternoon spent relaxing with friends, with nothing to do but enjoy each others company. That moment of pondering took me out of my befuddled brain and renewed me for the afternoon ahead.
Please no one write in and tell me that he was actually running late for a series of back to back meetings, one of which could change his life forever.
(Apologies if you have seen this image before, I don't think I've posted in already, but after so any posts there's bound to be one repeat, isn't there?)