How would you go if one day you were driving one of those huge trucks in a WA mine, and the next you were invited give a Tedx talk … in Vienna? Talk about getting the most out of life. That's what happened to my friend Ian Usher. See how he went, and find out how he prepared for it.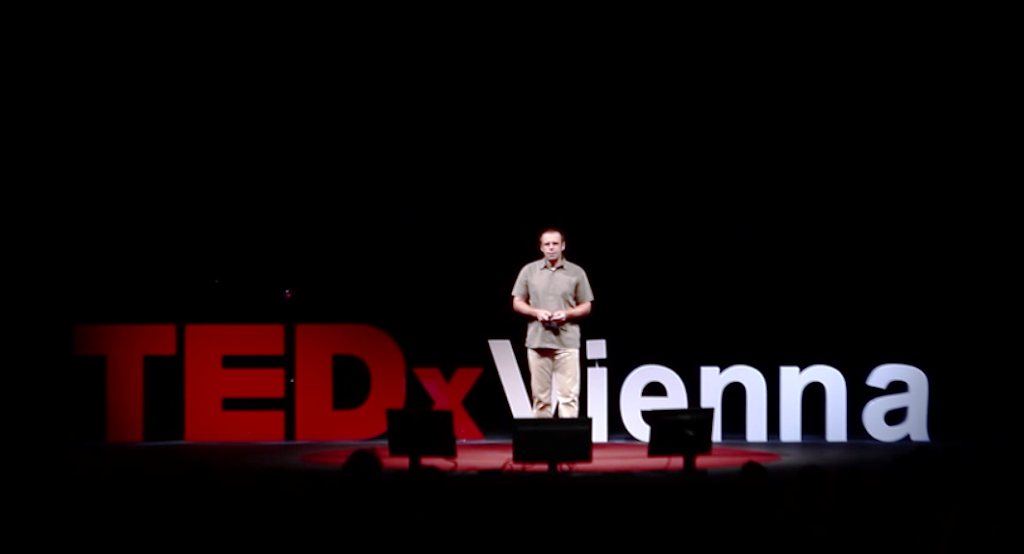 Ian Usher Tedx talk in Vienna
One of the aims of The Ponder Room is to feature people making the most of their lives, in the hope that some of their wanderlust might rub off on the rest of we mere mortals. Regular readers have already met my friend Ian Usher, famed as the guy who 'Sold his house on e-bay'.
You'll also know he's completed '100 goals in 100 weeks' link
And recently purchased an island off the coast of Panama link
So I guess it was inevitable that he'd end up on stage telling his story, but a Tedx talk eek!, and in Vienna … double eek!! (see two !!'s)
After a few moments of panic I know Ian would have jumped in, after all he's jumped out of planes copious times (including a naked sky dive), and run with the bulls, how hard can it be?

'I was quite nervous just before going on to the stage, but you know me. I enjoy that feeling. That's why I keep pushing myself to tackle new challenges. The more nervous before something the bigger the thrill when you achieve it,' Ian explained when I asked him how he felt.

In terms of preparing for the talk Ian said it was 'lots of preparation and practice.' He planned out what he wanted to say, wrote it down, read it out loud a few times, then condensed it into nine sections with 'a mental reminder heading for each one.' He then 'practiced mentally for a few days', and finished of with a few run throughs using the slides.

By all accounts the hours of practice were worth it.

'I had lots of great feedback and was there a few hours afterwards chatting to people who had been inspired.'

I think he did an excellent job and left his audience pondering about the question that changed his life (I won't spoil it for you, you'll have to watch the talk). He also spoke about the limits we place on ourselves, that prevent us from living the life we want to live. Then he practiced mentally for a few days and finally with the slides.

I'm sure his talk will leave you pondering. Would love to hear what you think and your answer to his question.