This page profiles three books: Me Time; To ePublish or not to ePublish; 50 Ways To Grieve Your Lover and my new series Pondering About.
Me Time: Over 100 strategies and tricks for gaining guilt-free Me Time
'Marsdon takes everyday activities such as going to the bathroom or driving in your car and finds a way to turn them into 'me time'. Start yours by reading more than 100 strategies for gaining guilt-free time just for you.'  Review: by WritingWA in The West Australian
Winner of People's Choice Award for Most Entertaining Paper at the Australian Market Research Society (WA) State Conference 2013
We all want more Me Time, but how do we get it … and how do we enjoy it … guilt free?
Sure we all like chocolate, and diamonds are meant to be our best friend, but as life is becoming faster and faster what we really crave is … time … just a little bit of time to ourselves.
Australian social researcher Glennys Marsdon, from The Customers' Voice, spent 9 months chatting to Australians about their strategies for gaining Me Time. In the 1980s 'Greed Is Good' era, Glennys often worked through the night developing marketing strategies for blue chip clients. Years later while catching up with colleagues she saw the direct impact of lives lived fast. In 2010 while researching a major social issue across Australia her client explained that 'all nighters' would be required to meet an unrealistic deadline … nothing had changed. Consequently she took nine months off to talk to a wide range of Australians, both men and women, about their attempts to build a more balanced life …one that included Me Time. During the research she uncovered a key barrier to Me Time … guilt. She realised it wasn't enough to just outline some real-life strategies, she needed to explore ways to reduce the guilt. By reviewing medical literature and talking to experts she uncovered some interesting facts, such as ….
Couples in workaholic marriages tend to have twice the divorce rate.
Only 2% of us can truly multi-task effectively.
People who sit at a desk all day only to go home and plonk themselves on the sofa all night, are subjecting themselves to health risks as insidious as smoking, or over exposure to the sun.
Designed as a gift book Me Time contains 100 real-life strategies and tips, quotes, medical facts, plus photos. Part proceeds go to Health research.
How to get a copy of Me Time
Me Time is now available online as an eBook under the name Me Time, Guilt Free. The eBook version does not include the relaxing photographs however all the strategies, tips and quotes are there.  Go to Me Time, Guilt Free on Amazon.
Buy direct and save: Buy direct from Glennys for $15+ post ($5 for Australia; $10 for International post). To order online from me go to buy direct from me where you can use paypal or your credit card to order a copy. For bulk orders contact Glennys via the contact tab.
The State Library Bookshop. Copies are now available at the WA State Library Bookshop.
Workshops – see Workshop tab for information about the Me Time Workshop
To ePublish or not to ePublish
10 questions to ask yourself before considering ePublishing.
'I thought it was wonderful and I am very impressed with your research. I learnt heaps and I'm a published eBook author' Marlene Rattigan editor.
If venturing into ePublishing and being bombarded with words like e-platforms, e-marketing and e-contracts has you hankering for simpler times of inkwells and town criers don't panic. This book outlines 10 questions to consider before you find yourself waist deep in the ePublishing River. It marries Glennys's personal experience of publishing three books, with 20+years spent helping organisations develop marketing strategies.
Glennys approached her own venture into ePublishing like any other research project. Consequently after nine months of writing festivals and workshops across Australia, copious emails, and discussions with e-publishers she made her decision. Along the way she uncovered 10 core questions and then pondered what to do with the insights. Rather than leave them festering in the bowels of her filing cabinet she decided to publish them in the hope they might help others, and so the book was born.
Relevant for first time and established authors the book touches on: you the author; your market; reading styles; pricing; marketing and provides some key links to get you started. The book in itself is part of the research process as it contains photos so readers can see how they get treated in an e-platform.
Price: $9.95
If you're in Australia it is best to buy the book from Palmer Higgs Books. If you're overseas it's best to buy the book from Amazon or Kobobooks
Workshop – See workshop tab for information about this workshop.
50 Ways To Grieve Your Lover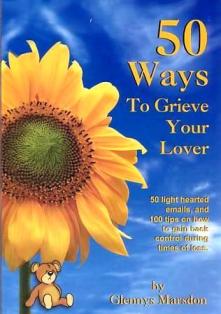 'An amazing array of emotions resulted reading it, happiness, sadness and hope'
'My sincere wish is that you don't ever need a book like this, but if you do, I hope that the lessons I've learnt will help you find new ways to smile again and gain back control.' Glennys Marsdon
The book is written as a series of 50 light-hearted emails to a friend. It contains: 100 Tips; 85 quotes; cartoon images from Michael Collins dec.
Glennys wrote the book a few years ago after the sudden passing of her partner Michael, and finding few books about the period after the funeral, and none with any element of humour. She was fortunate enough to have a degree in psychology behind me, however she also spent months devouring any information she could get that would tell me what to expect, and whether she was 'normal' !?
A year later a very good friend asked for advice, so she fired off an email titled '10 things I've learnt so far'. After a coffee and several chocolate biscuits the list grew to 50 things, and she felt compelled to write the book.
Aside from individuals, copies have also been purchased by: Carers Australian (WA); Solaris Cancer Support; New Zealand Counsellors Association; Grief counsellors in Queensland and the Australian Red Cross Society. Copies were also bought to help survivors of the Victorian Bush Fires (via the Australian Red Cross), and counsellors working on the New Zealand Pike Mine Disaster.
e-book – available on Amazon for$3.99 Aus
Hardcopy – $19.95 + postage. Contact me through the 'Contact Me' tab at the top of the blog.
Workshop – see the workshop tab for information about the workshop on this topic.
For more testimonials please see that tab on this blog.
If you'd like to know more about the www.glennysmarsdon.com
Pondering About ….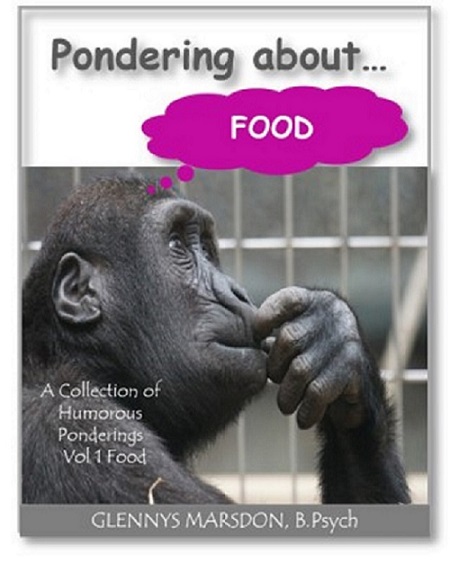 Pondering About is a new series of books each containing a handful of short essays. The books were written with the purpose of helping add a quick giggle to your day.
The first is Pondering about … Food. It can be found on Amazon here for $4.00. If you buy a copy please leave a review as it helps get the book seen. For the price of less than a coffee you'll receive at least seven giggles and enable me to buy a coffee.